Your Trusted
Managed IT Services
Cyber Security
Value Added Reseller
Partner in London
Voted MSP of the year 2023 with Cloud Excellence and PCR Awards
Delivering Services that scale your business with the right technologies and expertise
We'll take your business towards effortless IT management, state of the art cyber security and innovative transformations with our cloud gurus.
We're an award-winning IT Support Company, that's been offering IT support services in London for over 35 years.
As one of the top IT managed servcies in London, we feel that our approach to Information Technology enables us to provide a enhanced service experience to our customers compared with other Information Technology services and solutions company.
Our goal is to get a thorough grasp of your requirements and to provide strategic, long-term solutions to help you improve your company's performance, improve your digital transformations and gain operational efficiency.
We pride ourselves on being one of the best IT managed service providers in the UK and our culture is all about delivering the best for who we serve.
Whether you're a SME or an established enterprise, Transputec has the expertise and resources to elevate your business to new heights. Partner with us and experience the peace of mind that comes with having a reliable IT partner by your side.
Contact Transputec today and discover how our IT solutions can transform your business. Trust us to be your dedicated IT managed services provider, with unrivaled expertise and support every step of the way.
Our powerhouse of IT experts will help you produce outcomes and deliver powerful results.
An extraordinary team of tech geniuses solving dilemmas in a snap
A ceaseless quest for innovation that leaves adversaries in the dust.
Unwavering reliability, a saga of countless satisfied clients.
Blink and you'll miss our team working the wonders you didn't exepct.
Our culture is driven to serve our clients and give them the red carpet experience.
A Powerful Partnership that Drives Your Growth
We just dont talk, we deliver!
Unlock unprecedented growth by selecting the best IT Managed Services partner in the UK. We are driven by innovation and propel businesses forward to  delivers impactful results.
At Transputec, we recognise the crucial significance of collaboration in achieving success. Our team of professionals is committed to comprehending your distinct requirements and harnessing the potential of the latest technologies.
Immerse yourself in a flawless integration of customised innovative solutions designed to propel your growth. From state-of-the-art software development to ground breaking advancements in cloud technology, we empower your business to stay ahead in a swiftly changing digital world
By choosing Transputec as your reliable IT services partner, you can experience unmatched support, proactive issue resolution, and unwavering dedication to your success. Embrace the strength of a genuine partnership and witness your business flourish in an era of boundless opportunities.
What We Bring to the Table
Expertise in IT procurement, IT managed services,  cyber security as a service and cutting edge Software development allows clients to achieve operational excellence. By leveraging our industry knowledge and best practices, clients benefit from streamlined processes, improved efficiencies, and cost optimisation.
Proactive Problem Solving
We takes a proactive approach to identify and address IT challenges before they impact business operations. Our dedicated team of experts provides timely support, rapid issue resolution, and continuous monitoring to ensure minimal disruptions and maximum uptime.
Scalability and Flexibility
As businesses evolve and grow, Transputec offers scalable solutions that can adapt to changing needs. Our services and technologies are designed to scale seamlessly, allowing clients to expand their IT infrastructure and capabilities without compromising performance or security.
Cybersecurity threats are a constant concern for organisations. Transputec prioritises data protection and offers robust security solutions to safeguard valuable assets and maintain regulatory compliance. Our proactive security measures and ongoing monitoring ensure a resilient IT environment.
Transputec serves as a trusted advisor, offering strategic guidance and insights to align IT initiatives with business objectives. Our deep understanding of industry trends and technological advancements empowers clients to make informed decisions and stay ahead of the competition.
We help clients optimise their IT investments by delivering cost-effective solutions without compromising quality or performance. We leverage our industry partnerships and extensive experience to negotiate favorable contracts, manage vendor relationships, and drive cost savings.
IT Support Services that over Achieve
Live Net Promoter Score (NPS) says it all. Superior service with high customer satisfaction levels
We are an award winning IT Services Company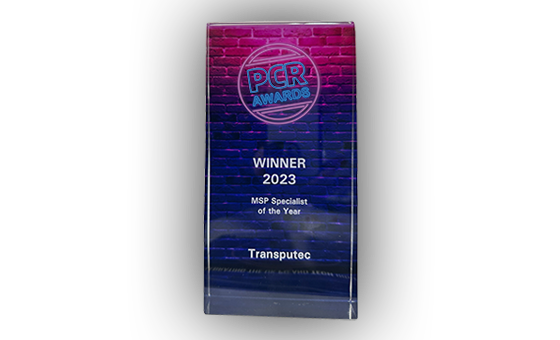 Our Proud Win- MSP Specialist of the year 2023 - PCR Awards
We were named Winners in the MSP Specialist of the year in the esteemed PCR Awards.
Transputec Wins Best MSP of the Year - Cloud Excellence Awards 2023
We are thrilled to announce that Transputec has been voted the "MSP of the year 2023".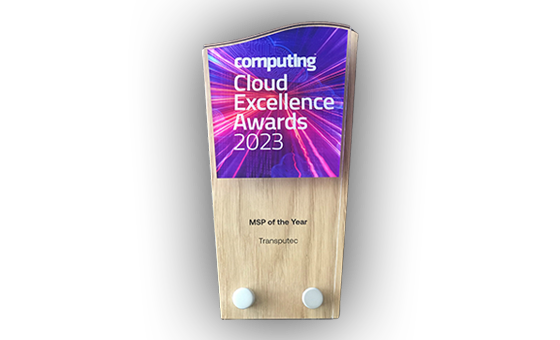 Don't Believe us? Ask our Clients
What always impresses us when working with Transputec is the responsiveness of its people – it is hard-wired into their DNA.

Higgins Group Services Director, London
Transputec won our RFP and we've been so impressed with the Global managed service they now provide us 24×7. We even achieved massive savings in our AWS spend!

We were looking for a partner to help us with various IT projects, and then we wanted to outsource all of IT , we found the perfect trusted partner that outperformed.

Chief Technology Officer, Incisive Media
Latest Blogs and Case Studies