We are thrilled to announce that Transputec has been voted the CRN Channel Awards 2021 "Corporate Reseller of the Year 2021".
The prestigious CRN Channel Awards celebrate successes across the IT industry, which is especially relevant after the challenges posed to organisations of all sizes over the last year and a half of the Covid-19 pandemic. Additionally, Transputec were also finalists for the Managed Services Provider of the Year award.
Mark Nightingale, Transputec COO said about our success:
"This is a real achievement for Transputec. We have gone from strength to strength over the last year, continuing to provide excellent services to our customers during these difficult times of the Covid-19 pandemic. Our success is built on the value we add to our customers beyond simply selling them hardware and software."
"I want to take this opportunity to congratulate everyone across Transputec, and to thank them for their hard work – we could not have won this award without them."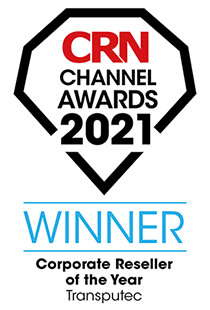 Putting our customers first
Our success as a reseller is based on our greatest strength – our emphasis on putting the customer first, building relationships with them to enable us to support them with all their IT needs, responsively, innovatively, and successfully.
Each of our customers has a dedicated account manager, who manages their relationship with every service we offer. For customers, they know who to call when they need something, no matter how big, or how small.
Our account managers pride themselves on providing excellent service to their customers, working closely with the customers' teams to understand their challenges and requirements, and actively looking for ways to add value. It's no surprise to us that our customers keep coming back to us, whether it is for new services, or support with specialist IT projects.
Innovation in a changing world
Transputec began operating in 1986, and we are proud of our longevity in a constantly changing sector. Over the last 35 years we have watched as companies bigger than us have come and gone. We credit our success to the way in which we have invested in our company and our employees, innovating and adapting to the latest IT trends and technologies.
Our team of account managers is supported to embrace the latest technologies, and understand the entire range of products that are available to our customers, enabling the team to provide advice and guidance that is tailored to their customers' needs, rather than what they know.
We have also grown with our customers. Over recent years we have seen significant growth in public cloud services, co-supply managed services, cybersecurity, and application development, reflecting the changing needs of our customers.
Customer satisfaction
At Transputec, we believe that customer satisfaction is key. Our internal success is measured by a set of customer satisfaction metrics such as retention rate, willingness to recommend our services, and overall satisfaction as expressed in surveys and direct feedback from our customers.
These metrics have remained consistently high over the last year and a half. For the period April 2020 to June 2021, we averaged a 95% customer happiness rating, 96% of our customers reported great or good satisfaction with our services, and we saw a customer retention rate of 96%. Finally, we have had an average Net Promoter Score of 74% for the period, with a current real time score of 80, which is truly world class.
Interested in learning more about what we can offer you? Contact us now, and we will be happy to discuss how we can work with you to achieve your company's goals.