Global cloud migration services from the experts
Global cloud migration services from the experts Transputec has 35 years' experience providing award-winning IT solutions. That experience means we've developed efficient, cost-effective and dependable cloud services to help your business make the most of cutting-edge technology. Ever since Microsoft and Amazon launched their cloud offerings, our experts have been working with organisations of all sizes to migrate their services, data and software to the cloud.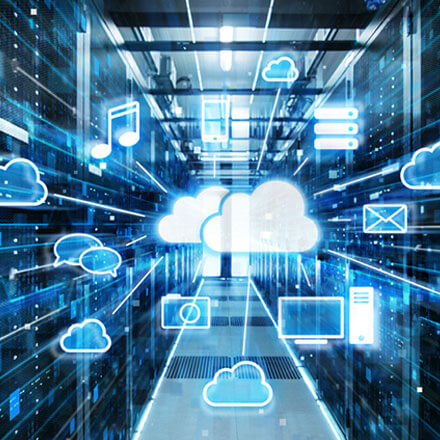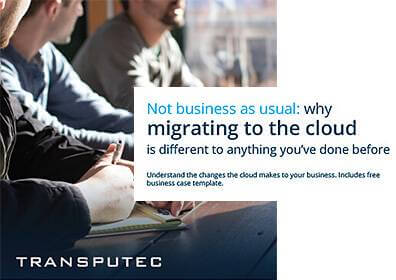 Cloud migration for your business
Many businesses are concerned about the technical challenges involved in a cloud migration. If you have thousands of gigabytes of data stored in on-premises servers and your teams use a mix of software tools, moving it all to the cloud can seem like a major project. However, data that's stored on-premises is less secure than keeping it in the Microsoft Azure or AWS clouds and there is not the power, efficiency and cost-effectiveness that the cloud offers.
AWS and Microsoft Azure experts
Rather than storing all your data in your building's servers, our cloud services allow you to use off-site computing power from reputable companies like Microsoft or Amazon in their UK and European data centres. Migrating to the cloud allows you to build a more agile business while using the very latest in enterprise technology.
Depending on your business size and the amount of content and tools you wish to move, a cloud migration project could take as little two weeks with little or no downtime. Our cloud experts will manage the process by doing a phased migration where different departments migrate at different times, so your business and employees face minimum disruption.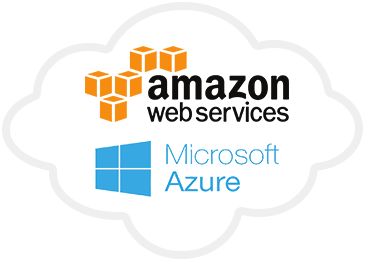 Our tried and tested cloud migration services
Transputec has helped businesses globally with migration to the cloud. Our Amazon and Microsoft Azure cloud consultants work with small, medium and large businesses and public sector organisations to make the move to – and then make the most of – cloud computing.
Our team of friendly and flexible Microsoft Azure and Amazon cloud experts take you through the following structured, fast and cost-effective migration process:
We work closely with you to assess your needs and build a strategy for the migration project.
Our Microsoft Azure and Amazon cloud consultants conduct data discovery of your current IT setup and put together a migration plan and timeline.
We then work with you to create a comprehensive migration plan, with detail on dates and phases.
Our teams execute the migration plan in close collaboration with you.
We help with launch and adoption of your new cloud environment to ensure you get the most out of the platform, and help you manage all aspects of the technology.
We help you manage your cloud infrastructure to ensure that it's secure, always patched and kept up-to-date.
We have transitioned seamlessly with a low-risk approach and overcome the obstacles that we once faced on a daily basis. Transputec has delivered the outcomes we needed, both on-premises and in the Cloud and we look forward to the ongoing modernisation of our processes to enable greater collaboration and shared working across our staff and service users.
Matthew Jay
IT Service Contracts Manager, Diocese IT Consortium