The health and wellbeing of our employees is vital to our success at Transputec. The global pandemic has made it difficult for us to always keep touch with the health and wellbeing of our teams as we normally would, and has raised new challenges for people regarding work-life balance, comfortable working environments, and team belonging.
We wanted to give back to our teams, and have an event that could address some of these challenges, so we held our first ever Health and Wellness event online over three days between 27th and 29th April.
Over 200 people attended 20 half-hour sessions all focussed on helping them improve their health and wellbeing from home. We deliberately chose Tuesday to Thursday for the health and wellness event to maximise the benefit for employees, and to show that it is crucial to take time even through the busiest times of the day or week. Everything went smoothly, even though the start of the event coincided with a global Teams outage, leaving us scrambling to find a solution minutes before the kick off! Luckily, Teams came back just in time, and everyone was able to join in from the start.
And while this is a new format for us, it also meant that every member of our teams from the Philippines to South Africa could join in for every session. We think it worked brilliantly!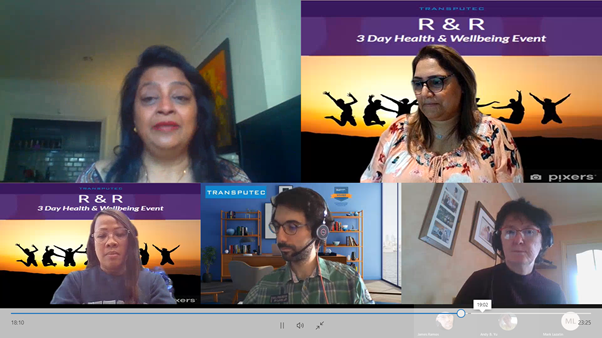 Our employee focussed health and wellness event
This was truly a health and wellness event for everyone. We put a lot of thought into the list of sessions, basing it on feedback from employees about the areas they are interested in or need help with. Most of the sessions were run by local businesses bringing a community feel to the event, and they all had to go through a rigorous audition process before we accepted them for the health and wellness event.
The session topics covered everything from nutritional health and fitness, to office ergonomics and staying comfy while working from home. There were sessions for the whole family such as a virtual farm experience – we really felt as though we were touching the goats!
And for some light relief three teams of five people each pitted their wits against each other in the virtual escape room. That really brought the gamers out, and it was wonderful to see people engaging in a little healthy competition and team working.
Rewarding and recognising the hard work of our employees
The health and wellness event was part of our Rewards and Recognition Program. The R&R program is our way of showing our appreciation to our employees for the hard work and dedication they put into their jobs day in and out.
Managed by employees for employees, the R&R program organises events like this one, gives our employees the opportunity to share in each other's triumphs, and offers a way for employees to suggest workplace improvements. Many of the specific sessions at the health and wellbeing event came from suggestions made through the R&R program.
Enjoying ourselves and giving back at the same time
We also used the opportunity to raise funds for our charity partner – Haven. Due to the current pandemic, we have changed how we raise money for Haven, and we were delighted to use this opportunity for our employees to give back by donating money during the sessions.
Haven, which stands for 'Help A Village Emerge New' is a UK based charity working to help the poor in rural India, providing medical services from a community centre in Atla, Tarapith, West Bengal. We support the Transputec Academy, an IT unit in the community centre where up to 80 students can access interactive learning online.
Members of the Haven organisation were special guests at different sessions across the three days, and we ran an appeal to raise money for them. In all we are delighted to announce that we raised £365 for Haven, so thank you everyone for your generosity.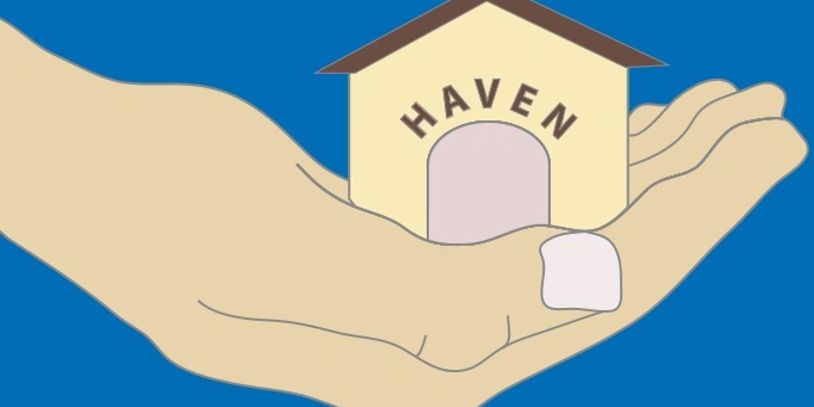 What they said about it
We asked session attendees for their feedback, and were truly excited by some of the responses. Just some of the comments we received include:
"Brill!!💖"
"I ordered a water flosser after the Oral session and also used the various exercises from the separate sessions."
"I attended a session regarding the charity Transputec supports – Haven Charity. I think it's a great initiative. It was very touching to know what sort of support is being provided to the vulnerable people of Atla Village in West Bengal, India."
"Amazing Amazing Amazing"
"Really thought these sessions were fantastic. I wish I had attended more of them, but didn't want all of my days to be taken by them. I felt great after the relaxing yoga, learned great stretches from the chiropractor, and think the virtual escape room should happen quarterly and teams should constantly be mixed. You get to talk to people you otherwise may not have and it can't be about work at all. It was hard but great teamwork!"
"I found the sessions a very useful and easy reminder when you often are caught up in your routines."
A real achievement… I look forward to doing it again
Finally, I want to say thank you to everyone who worked to put the whole event together. I am really proud and happy to have been part of such an amazing event. A special thank you goes to Jyoti Bhundia for all her help organising the event, and making sure that all the sessions ran as smoothly as possible. Thank you also to all of our amazing presenters for giving us the time and benefit of their skills.
And finally, thank you to everyone who took part in the sessions. It was great to be on screen watching our employees forget about work meetings for half an hour at a time, and take the opportunity to focus on themselves during the busy workday.
It was a lot of work, but I am so happy we did it. I'm just looking forward to the next event.
Roann Etan
People Team Lead
Interested in joining our IT Services Team?
Transputec is a growing, fast-moving organisation, and we are always looking for skilled people to join our talented team. Want to join us? Take a look at our current vacancies here: https://www.transputec.com/careers/current-opportunities/, call us on 020 8584 1400 and visit us on Facebook, LinkedIn, Instagram, Twitter, and Glassdoor.