Not-for-profit organisations are under increasing pressure to deliver professional IT services to all their stakeholders, including employees, donors, and the people and causes they support. From social housing providers to religious organisations, our teams at Transputec are proud to deliver sustainable end to end IT services and IT solutions for our clients in this sector.
With over 30 years of hands-on experience, we have a comprehensive understanding of the sector's IT needs and challenges and a proven track record of rolling out digital transformation projects. However, the real key to our success is our collaborative approach and our highly effective co-supply operating model.
What is a co-supply IT support operating model?
Co-supply simply means we plan and deliver bespoke IT solutions in partnership with an organisation's IT department. This collaborative approach to IT solutions, aligns with many not-for-profit organisations' structure, processes, and culture, and for it to be successful, should involve these 7 factors:
Co-supply: 7 factors for success
Strategic alignment
Shared values
Close cooperation
Cross training
Knowledge exchange
Shared risks
High degree of trust
Passing on value to not-for-profit organisations
From working with NFPs over the years, we know that they need to be able to show that their IT services are both efficient and cost effective. We understand that there is perhaps even more pressure on any IT investment, and it must deliver over and above ROI.
As we are not exclusively a NFP partner, and work across a range of sectors, our NFP clients benefit from our scale of operations, technical expertise, and long-standing relationships with IT suppliers and vendor licensing agreements. Specifically, we can bring our experience and expertise from other sectors in terms of quality standards, service performance measures, operational efficiency metrics, and customer experience engagement models, ensuring accountability and compliance.
Tailored IT services for not-for-profit organisations
Across our clients, we provide a range of managed IT services, delivered on a 24x7x365 basis, to support our NFP's varied needs. Using the co supply engagement model, we pool our resources and work together across all teams to deliver IT expertise and support tailored to our clients' individual requirements. There is no one size fits all solution, and we have worked in partnership with our NFP partners on the following:
A digital transformation strategy
Public and hybrid cloud solutions
Modern workplace solutions
Business Apps
Managed user end points
24/7 service desk.
24/7 cyber security services.
Project and backfill resourcing
Collective IT expertise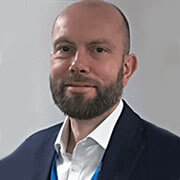 In essence, a successful roll out of collective expertise is down to three factors; collaboration, communication, and partnership, and this is at the core of our co supply operating model. By working together to deliver IT requirements for the organisation, we can achieve so much more. As well as this, we love working in partnership with our NFP clients to develop their digital roadmaps and are passionate about helping them to improve their digital capability, as by being more agile and innovative, non-profit organisations can be more sustainable. We recognise that an increased efficiency in IT services and solutions will be passed on to help their stakeholders and, ultimately, their causes. It is our way of supporting our not-for-profit partners in the best way we can.
Stuart Salt
Services Director, Transputec
Want to know more? Get in touch to discuss how we can support your NFP organisation through a partnership with Transputec.