What is Database Administration as a Service (DBAaaS)
Database Administration as a Service (DBAaaS) is a remote database administration and support service, which provides customers access to expert DBA's who will manage their databases. DBAaaS is delivered as a managed service, meaning our experts will take the responsibility of looking after your databases 24×7 ensuring optimum working state, improved database availability, performance and scalability. With our proactive monitoring, potential database issues are identified and addressed before they can turn into business disrupting problems.
All organisations depend upon IT in a critical way for their operations and functions. The amount of data that they collect and store is growing exponentially, year after year. This data is commonly in unstructured form (files) and structured form (databases).
The databases being used to handle crucial data and to support the business processes are of the utmost importance. These databases rely upon security, accessibility, and availability 24/7. It is therefore imperative that organisations have the capability of database administration in order to:
This means that in-house resources of Database Administrators (DBAs), where available, are constantly being strained to meet growing demands. For organizations without internal DBA resources, the challenges and risks are even greater. This, combined with being unable to stay on top of an ever-changing database technology landscape, has created a demand for specialist remote DBA services.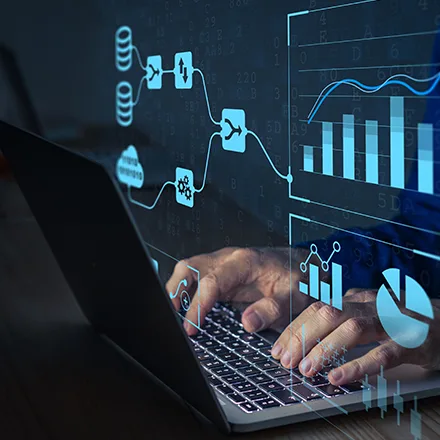 Transputec really got under the skin of our business to develop this tailor-made product. We are a growing business and this portal was developed with our future ambitions in mind. The new system has huge capabilities and can be used for other areas of our business. As we grow, this sustainable bespoke platform will grow with us.
What are the Key Features & Benefits of using DBAaaS
Database Administration as a Service Options
We offer two type of DBAaaS, Standard and Premium
Our Standard DBAaaS service is designed to proactively monitor your databases remotely ensuring that all databases are running smoothly, and all necessary backups and scheduled jobs are running successfully.
The Standard DBAaaS service will give you the benefits of early detection and diagnosis, which will improve system reliability, availability and performance. It will also provide notification of failures or issues before your users know there is a problem and with guaranteed response times giving you peace of mind. Additionally, the monthly reports provide trend analysis and system recommendations (as necessary).
The Standard DBAaaS includes the following remote DBA service:
Our Premium DBAaaS service includes all the Standard service features as well as the following additional remote DBA functions:
On Premise

Private Cloud

Public Cloud
(Azure, AWS)

Database Technology Supported
Relational

NoSQL

Cloud Native

Microsoft SQL Server
MySQL
Postgres

AWS DynamoDB
Azure Cosmos
AWS RDS
Azure SQL

What is included in our DBAaaS
| Service Description | | |
| --- | --- | --- |
| Diagnosis | | |
| Recommendations | | |
| Custom queries & developer support | | |
| Query optimisation | | |
| Monitoring & troubleshooting | | |
| Maintaining backups and restore policies | | |
| Maintaining security mechanisms | | |
| Analysing and tuning performance | | |
| Support on the maintained databases during planned / unplanned system & hardware maintenance | | |
| Disaster recovery and high availability | | |
| Clustering | | |
| Upgrades | | |
| Installation and provisioning of server | | |
| Preventative maintenance | | |
| Licence support | | |
| User management | | |
| Working hours support (8:00 am-6:00pm) Mon to Fri | | |
| 24*7 support | | |
| Database development and modelling | | |
| Integrations services | | |
| Vulnerability assessments | | |
They are constantly striving to improve and innovate our services. And they are 100% reliable. We trust them to do what they say they will do, and they leave no stone unturned in solving a problem. They are great communicators and are always on, 24/7.
Juhel Ahmed
IQPC Systems Support Manager, London