All you want this Christmas is cybersecurity tips to use your devices safely!
With the most wonderful time of the year around the corner, it is more important than ever to ensure our digital safety. As employees and organisations let their guard down, taking a well deserved break to enjoy online shopping and Christmas films, hackers take advantage of the loss of attention. Reports suggest that 75% of cyberattacks happen at night, over the weekend or during the holiday season, meaning that an attack is a very real possibility.
But all is not lost. As prevention is better than cure, we have compiled our 12 top Christmas cybersecurity tips for employees and organisations alike so that you can relax and be safe and merry over the holidays.
And feel free to share these Christmas cybersecurity tips with your friends, as staying safe is everyone's responsibility!
Top Christmas cybersecurity tips that are easy to implement
1. Go a step further; enable multi-factor authentication
Multi-factor authentication (MFA), commonly known as two-factor authentication (2FA), is an additional layer of security to the log-in process. Enabling MFA significantly reduces the risk of accounts being hacked and private information being compromised. MFA works by sending a verification code to a mobile number or authentication app, or uses biometrics such as a fingerprint scan or face recognition scan to prevent unauthorised logins to accounts.
MFA is an important backup to passwords, as passwords are increasingly vulnerable to advanced hacking software. Furthermore, many users don't implement strong passwords (more about that later), making MFA crucial to protecting accounts. 
2. Don't push it to tomorrow; Update your software today
We all know how annoying it is when a pop up appears on the screen telling us that a system or application needs updating. It's so much easier to simply snooze it, and leave it for another day.
Don't. Those software updates can just save your computer (and by extension your entire network) from cyber attacks. Many updates contain security updates or patches, which have been created to fix a flaw that could be exploited by an attacker. In fact, once an update is released, you should aim to install the update as quickly as possible because attackers will be actively looking for devices that haven't installed them.
Protect yourself and everyone on your network by installing updates as soon as you see them.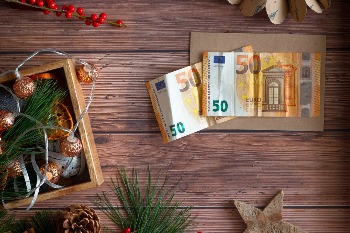 3. Keep your money secure; Use a digital wallet
Online shopping is arguably comfortable and easier, enabling you to browse and buy from the comfort of your home. No wonder it's become immensely popular amongst shoppers. But with online shopping comes the risk of hack or attack, compromise of credit cards and more.  Shop safely with a digital wallet. 
What is a digital wallet? They are electronic payment systems that securely store bank or card details and can be downloaded as an app on a smartphone. Having a digital wallet allows shoppers to make purchases without supplying sensitive financial information. It's also easier to manage and gives peace of mind when making online payments.
4. Read before you click; Only browse trusted websites
This is an especially important Christmas cybersecurity tips. Stop and have a look at which website you're using to download your Christmas films. Insecure websites may have spyware. Insecure links are especially bad because they can be a form of social engineering and are a way of spreading malware to other devices. Likewise, think before tapping on forwarded video links like those sent in many Christmas wishes. While they may seem harmless, they can also conceal malware.
How to check for a safe website:
Is there a lock icon at the start of the link or 's' at the end of http? Then the website is secure. If they are missing, don't click.
Does the link use an unusual ending such as .biz, .xxx, or come from an unusual looking country? If so, stay away.
5. Backup your data regularly
Many forms of cyberattack will force your systems offline and delete your data. Cyberattacks can occur in the biggest of organisations as well as small ones, even those with the best security measures put in place. Backing up your data regularly and saving the backup in a secure place is invaluable in a cyberattack.
If your data is backed up, you will permanently have access to all your information. It can save the organisation from having to pay ransomware to decrypt the data, save time in getting things back up and running and enable them to keep their history. It's generally advised to have an online and offline backup, both free from malware, for total security.
6. They're distracting and a threat; Turn down pop-up ads
A pop-up is a window that opens when you visit a website. Pop-up ads aren't just annoying but are also a security threat. We often see pop-up ads claiming our device is infected with a virus and downloading the software will clean it, but they have malware embedded in them, and by clicking on the pop-up, the device may get infected. Most web browsers come with a pop-up ad blocker which can be very useful.
7. Secure yourself; Create a strong password
Passwords have long been considered the weakest link in cybersecurity. The combination of poor password practices and increasingly advanced brute force, social engineering, and hacking techniques have led to many successful cyber attacks. 
Therefore, the best way to secure accounts and devices is to create strong passwords. Best password practice advises creating passwords that are a combination of uppercase letters, lowercase letters, characters and numbers. Keeping it long and something uncommon makes it difficult to break or guess.
It is also important to have different passwords for different accounts as if a hacker gets hold of a password that is used for all accounts they can easily gain access to not just one, but all accounts. While it may seem like a hassle, protecting accounts begins with strong password practices.
8. Don't just check the smoke alarm; Set up a firewall
A firewall is a shield that protects devices from malware. Modern operating systems generally have one automatically installed, or you can get one using a third party. However, it is essential to check whether you are using one already and, if not, use a third party firewall immediately. This simple step protects your device from untrusted network traffic and prevents unauthorised remote access.
9. As tempting as it may be, don't disable or override security settings
Your IT department or CISO may have already installed security features on your devices or asked you to install them. While it may be tempting to disable those features as they slow you down or stop you from accessing certain sites, they're there for our safety. Actively participate in training that your company organises or pro-actively look for them online if you are self-employed or a student. It is essential to have these settings in place and use them constantly.
10. The catfishing of cyberattacks: Beware of phishing emails
More than 3 billion phishing emails are sent out every day. It's highly likely that you've come across a few yourself. It is very important to recognise the signs of a phishing email and avoid them. Phishing emails are becoming more sophisticated day by day. They use exact branding and wording as official companies to seem more legitimate and gain the receiver's trust. They usually ask for personal information that they can use to access your personal accounts. 
Phishing emails can be identified by:
Noticing if they have poor grammar
Websites have hidden domain or shortened links
Weird looking sender email addresses
Asking for personal information that doesn't add up
Create a sense of urgency out of nowhere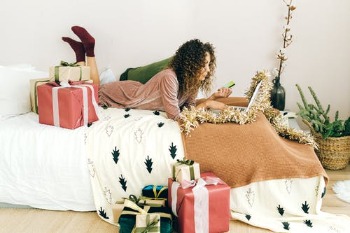 11. Everything comes at a cost; Beware of public Wifi
Everyone loves public Wi-Fi because it is convenient and free. But it also comes with a cybersecurity threat. Hackers can easily compromise unsecure WiFi connections, intercepting your transactions in what are known as man-in-the-middle attacks.  ​​It becomes easy for hackers to access the confidential data you transfer as you use the WiFi over an unsecure network. It can lead to identity theft, losing access to online accounts or having financial data stolen. 
If you must use public wifi, it's best to use a VPN as it converts your public network to a private one by encrypting it.
12. And the most important of all Christmas cybersecurity tips: Have a good service provider and use your devices securely
Ensuring that you have a good service provider secures you and your organisation should you face a cyberattack. Not only can they assist you during a cyberattack but they will also help you protect your data and prevent it from happening.
 It is important that we use our devices securely in order to remain safe. That means following all these easy tips and not being lax or lazy when it comes to safety. Online security is just as important as offline security. Help your Christmas be merry and safe by following these Christmas cybersecurity tips!
Merry Christmas and Happy New Year.