As businesses adapt to new technology and digital innovations, the need for great IT services also rises. Transputec Ltd is a leading IT services and solutions company based in the United Kingdom, providing innovative solutions and excellent customer service for our clients.
We take pride in understanding our clients' requirements to deliver product-sized solutions through skilled and responsive people. We are proud to say that our passion for delivering IT services and solutions is recognised by our customers in ratings and reviews on sites like Clutch.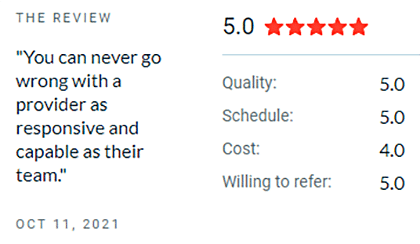 We are very excited to share our 3rd Clutch review with all of you!
The customer is Medical Research Co. Our team was chosen to deliver hardware to meet their needs, and fit the hardware with the relevant licensed software, before delivering these computers to their users across the world.
The client was impressed with our collaborative approach and the speed of our delivery. We believe that these are integral parts of any project's success. Communicating effectively with the client's team was vital in making sure that everything ran as smoothly as possible.
Medical Research Co,'s Enterprise Support Operations Manager said:
"Their work doesn't require quantitative metrics from our end since it's mostly supply and management, but I can confirm that they deliver what we need when we need it — if we ask them to deploy 50 laptops, they'll procure and set those up without problems. We're a family-operated business, and we highly value Transputec Ltd high level of accommodation and personal approach."
We are always happy to hear from our satisfied customers .These types of positive feedback continue to inspire us to keep delivering the very best IT services in the industry.
Our team is also featured on Top Design Firms as a leading IT service provider. Go check out their website and browse their incredible collection of top companies and agencies from all around the world.
Visit our website to learn more about us and our award-winning Managed Services including Outsourced IT Support, Bespoke IT Solutions, Managed Security Services, and Cloud Management Services, 24/7, 365 days a year. Give us a call to discuss how we can help you and your business today.