Secure your company with just one application
Every organisation faces a seemingly endless list of cyber security threats waiting to breach the security perimeter, and compromise the network. Introducing ThreatSpike, our insider threat monitoring software, the next generation in managed security.
ThreatSpike Wire managed security solution provides full, end-to-end protection, detection, and remediation against cyber threats on the network, servers, and computers. ThreatSpike compliments our Cyber Security as a Service providing total security to protect your business against the worst-case scenario.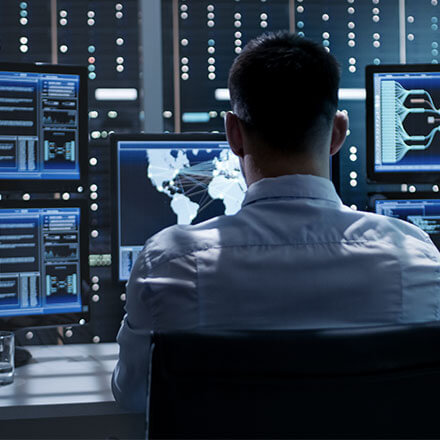 What Can ThreatSpike Do to Protect Against
It alerts you in real-time, and secures your network with automated security controls providing immediate protection when needed. ThreatSpike also monitors logins, authorisation changes, access reach, electronic communications and data transfers to detect insider threats.
Block threats and identify compromises with ThreatSpike
ThreatSpike offers advanced protection against:
The next generation of security monitoring services
Learn more about ThreatSpike, and understand how we can help you rethink your cyber security protections.
How much time is required to install and manage the solution?
Installation is very quick – all that is required is to deploy an installer to the machines in the network. If a software distribution tool isn't available then we can provide a script to do this. Once deployed, we begin monitoring without any assistance from your team and if we see an issue we raise this with you via email. It is then up to you whether the issue warrants remediation.
Is there a performance impact on the network?
Our software can run in two modes – mirror mode and inline. In mirror mode a copy of the traffic is taken and analysed and there is no impact to the network. In inline mode, which is required for functionality which changes the network traffic (e.g. web filtering, SSL/TLS inspection), there is a reduction in the network bandwidth proportional to the CPU performance, however this is very rarely perceivable by the user.
The security of your data is our main concern and we follow industry best practices at all times. Notably we own and manage our own server infrastructure which is hosted in a tier III data center in London and access is highly restricted. We use firewalls to restrict network access, all access to servers is logged, we do not share your data or access to any of our systems with anybody including 3rd parties. We encrypt all data at rest and in transit.
How does this compare with log management?
Log management is complex and also expensive to deploy and manage. Compared to log management which requires taking in feeds from existing products on the network, our technology monitors network traffic directly to build event data which is then correlated within our cloud. It can be deployed very quickly, entirely standalone.
Can this service be used to cover the PCI DSS log monitoring requirements?
Yes, we provide both the technology to collect and generate logs, as well as the day-to-day analysis of those logs by trained security professionals. Usually our customers find that we are able to provide both at a lower cost than our competitors who are offering just a log management product.
Which operating systems are supported?
We support Windows, macOS and Linux. We can also provide hardware sensors capable of monitoring all endpoints on the network.