London, UK, 12 July, 2012 – The Northwick Park Institute for Medical Research (NPIMR) held their annual charity fundraising dinner for the Heart and Stroke Research Campaign at The House of Commons, Member's Dining Room on Friday 29th June 2012. The event was a success with 164 attendees, including honoured guests The Rt Hon Dominic Grieve, QC MP and NPIMR director Professor Shervanthi Homer-Vanniasinkam, as well as representatives from Transputec PLC and Heart and Stroke Research Campaign Golden Heart member Rickie Sehgal.
NPIMR is a registered charity funded entirely by grants and donations. The institute is academically linked to University College London and is pivotal in conducting medical research in collaboration with academic scientists and NHS clinicians.
In 2009 the NPIMR launched the Heart and Stroke Research Campaign to raise awareness and funds for their Centre for Investigational Proteomics in order to find better ways to detect, diagnose and treat heart and stroke diseases.
Since 2009, NPIMR's Heart and Stroke Research Campaign has attracted 36 Golden Heart Members: an exclusive title given to those who donate a minimum sum of £1,000 per annum for at least two years. This funding has allowed the institute to purchase and install two state-of-the-art mass spectrometers and employ a PhD student and a post-doctoral researcher for a year.
In addition to being an going Golden Heart Member, Rickie Sehgal, Director of Transputec and prominent supporter of NPIMR, took two tables at the event with a further donation of four of the seats at those tables, and also generously contributed an auction prize – a holiday for four at a beautiful ski resort in Bansko, Bulgaria.
"My personal experiences of the devastating effect that these major conditions have in the lives of family and friends convinced me to assist in the research that NPIMR undertakes. There is a lot that has been learnt about how these diseases but not enough about how they can be detected early and proactively managed." Said Rickie Sehgal.
He added, "I am committed to helping raise awareness and, ultimately funds, for the continued research into these life-changing conditions."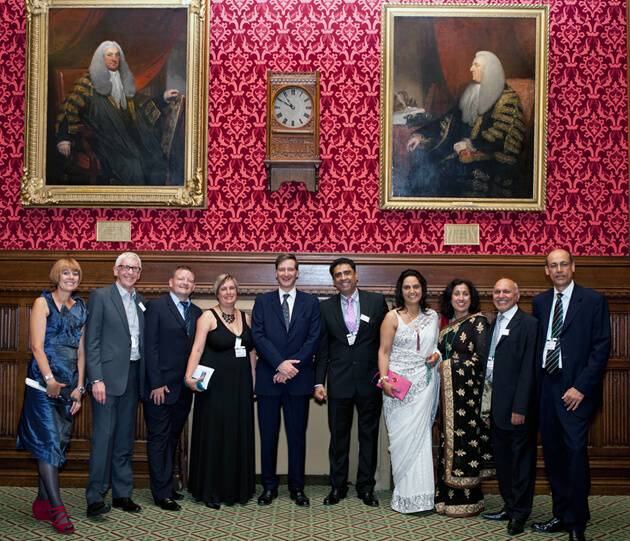 Other auction prizes included a Signed Arsenal Shirt kindly donated by the Arsenal Football Club, and a House of Commons Scotch Whisky signed by the Prime Minister.
The event was an enormous success and raised more than £23,000 on the night. In addition to funds raised through raffle tickets, seats and auction prizes, the charity was able to secure six additional Golden Heart Memberships.
"We really value Transputec's continued support for the Heart and Stroke Research Campaign at NPIMR," said Jayshree Shah, Fundraising Manager for the Heart and Stroke Research Campaign. "As a Golden Heart Club member Rickie has been involved with this campaign for over two years. Both Rickie and Pam have attended many events and raised additional funds for the campaign. Moreover they have encouraged other members of Transputec to do the same."
The next NPIMR fundraising charity event is the charity's annual fun run on the 30th of September where supporters are invited to take part in 5km, 10km and 20km races. "To further support the campaign, Rickie is currently encouraging all staff from Transputec to join the 'Walk for Heart and Stroke' on Sunday 30th September 2012." Shah added. "In 2010 Team Transputec raised nearly a £1,000 for the campaign; in this Olympic Year Team Transputec will raise the roof and go for Gold raising the bar for others to compete with!"
This event which promises to be an exciting day out for supporters – and a great way to raise awareness and finance for this important charity.
Notes to Editors:
About Transputec:
Transputec is an award-winning IT Services Company and market leader in the technology industry with more than 25 years of IT innovation and excellent customer service. Transputec holds the highest level of accreditation with most market leading technology vendors and is well-established as the preferred IT partner within many industries.
For more information, visit https://www.transputec.com/
About the NPIMR:
Founded in 1994, NPIMR is today one of the UK's leading charity-based independent Medical Research Institutes working to translate ground breaking Medical Research rapidly into patient care. By maintaining our own top-rate research facilities, we ensure the highest standard of science for translation into the clinic.
You can register for the Walk for Heart and Stroke by visiting the website here http://www.heartandstrokeresearch.org/walk-hsrc
Photo taken by Sangita Shah, Diamond Photos.