How do the new GDPR rules affect businesses with paper documents?
Many businesses are already investing in GDPR compliance in areas such as e-mail and data held on servers. However, what they often fail to realise is that data held in paper format, in folders sat on shelves or in filing cabinets, may pose an equal or even greater compliance threat to their company. On top of this, data held in digital documents such as PDF's can also be just as exposed.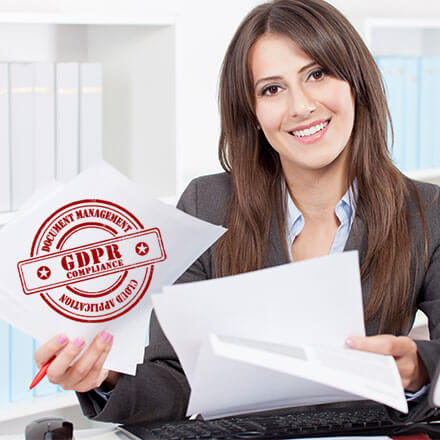 What is the GDPR solution for businesses with paper documents?
Finding the right document management solution to manage paper based data has now become imperative, rather than just a nice to have. For HR departments that frequently deal with employee and job applicant related data and documents, the significance of the GDPR cannot be underestimated. Working in old fashioned ways with piles of paper, traditional filing cabinets and a mix of digital and paper processes just isn't good enough anymore. The risks to the business are too high to keep working in this way. 
Every business needs a document management system that allows them to record, store, find and delete data quickly and easily. That is where Intelefile can help.
How does Intelefile help with GDPR data rules?
Intelefile is a document management solution that provides secure, low cost, online access to your all your HR and other documents in one easy step. It is your complete digital platform for storing, retrieving and editing records securely. Intelefile also provides a flexible workflow, which can efficiently move documents across your business processes electronically. Intelefile is designed to and execute retention and deletion policies that comply with GDPR requirements, for all the different document types you hold.